Warsaw is a huge city. Chopin is important, but most Varsovians don't think about him every day. Remember George Washington? He's important to Americans, but we don't think about him every day either.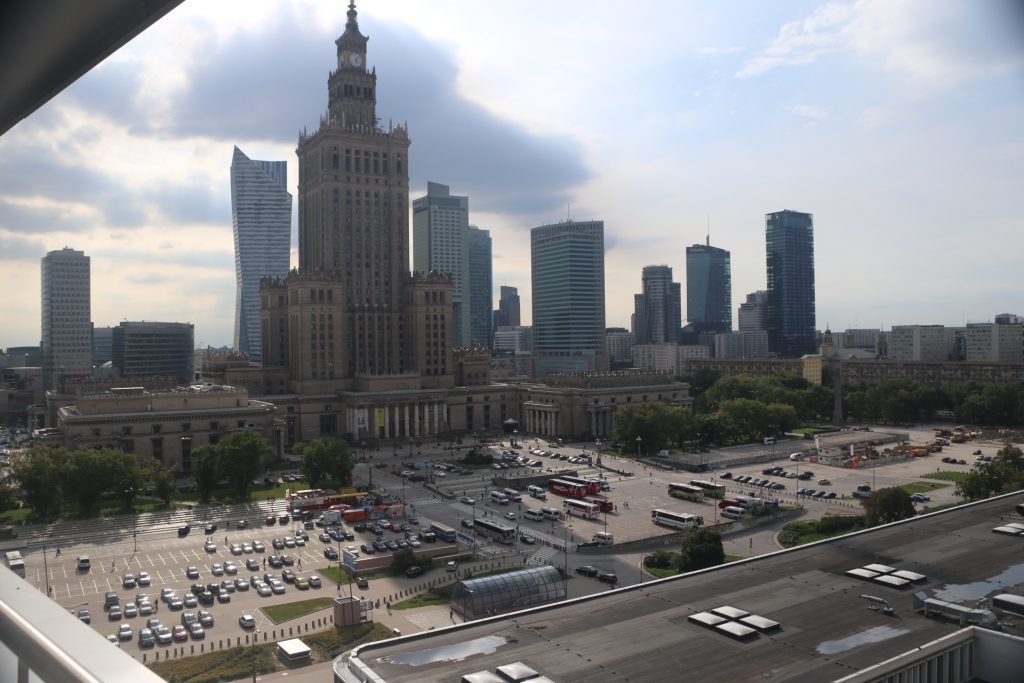 But if you are a tourist and interested in music, then there is plenty of Chopin for you in Warsaw. You will hear Chopin in various places throughout the walk, from Chopin benches to museum entrances to drifting out of windows, and in courtyards of buildings which functions I do not know. However, your experience of Chopin will be somewhat understated and subtle and make for a rather relaxed exploration of Warsaw. I think the primary reason for this is the lack of existing artifacts from Chopin's life. Between the Soviets and the Nazis, so much of the city was destroyed. Pretty much anything still surviving in Warsaw was saved by being snuck out to the countryside when the Nazi's destroyed the city.
I spent half a day walking the Royal Way and Old Town, which is a main route for exploring the tourist sites in the city. With only a couple side-trips (about 2 city blocks) off this route, you can see the main Chopin sites. It was a rainy, gloomy day in Warsaw, which kept many tourists inside but made it difficult to get good photos.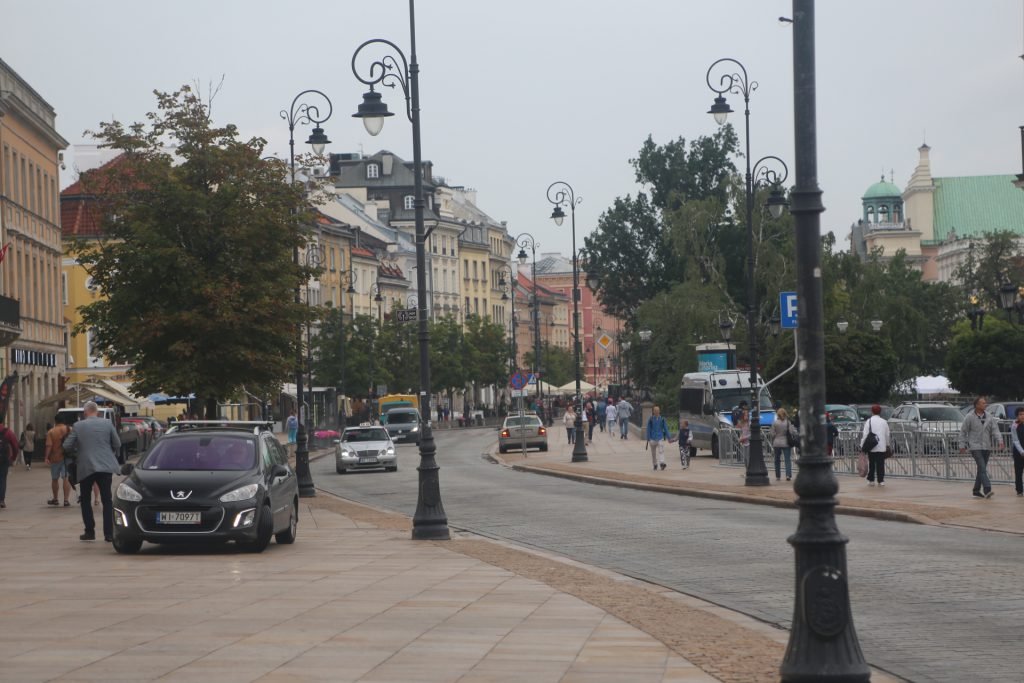 If you start at the DeGaulle statue and walk North, the first stop will be the Chopin Salon, a couple blocks east of the route. This is a concert venue, so it is best to come back in the evening for a concert. Still, I stopped in to get information about tickets, concert times, etc. I was told I would not need a reservation for either night I was considering, so I was happy I didn't have to commit in advance.
A few blocks further north is the Chopin Museum, again a couple blocks east of the route. It didn't open until 11am, so I was an hour early. Instead of waiting I decided to stop on the way back (my apartment was very near the starting point of this route).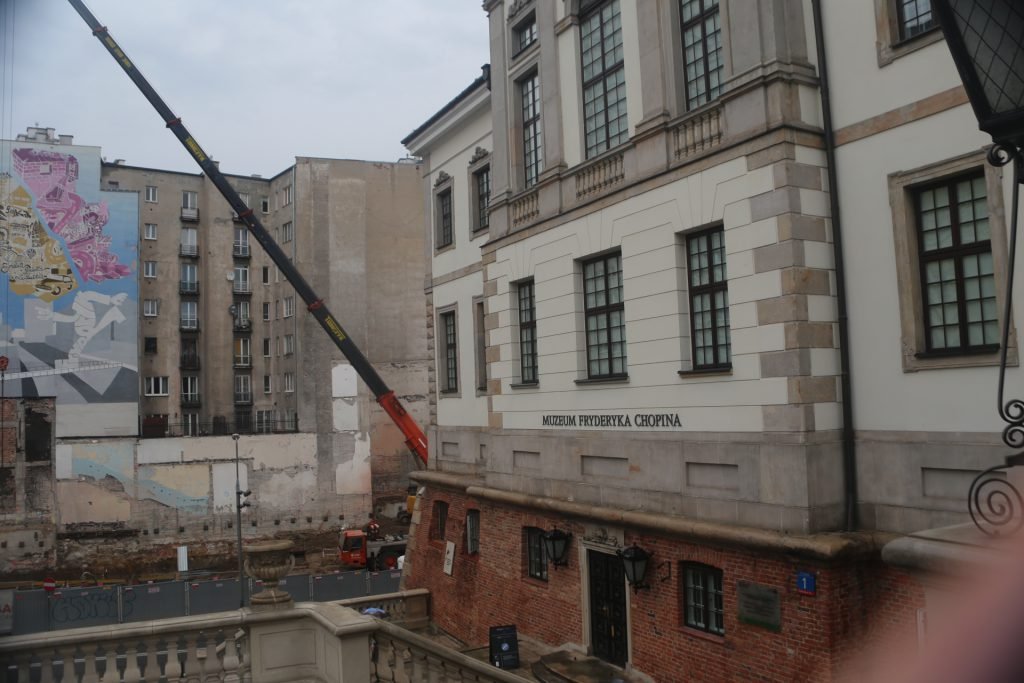 There are Chopin benches everywhere in the city where something Chopin-significant took place, and each plays a piece of Chopin's music when you push a button on the bench. I found three on this walk without going out of my way. The first is in the square with the Copernicus statue. Chopin's sister lived across the street and evidently had a substantial collection of Chopin artifacts which were destroyed at some point during Soviet rule.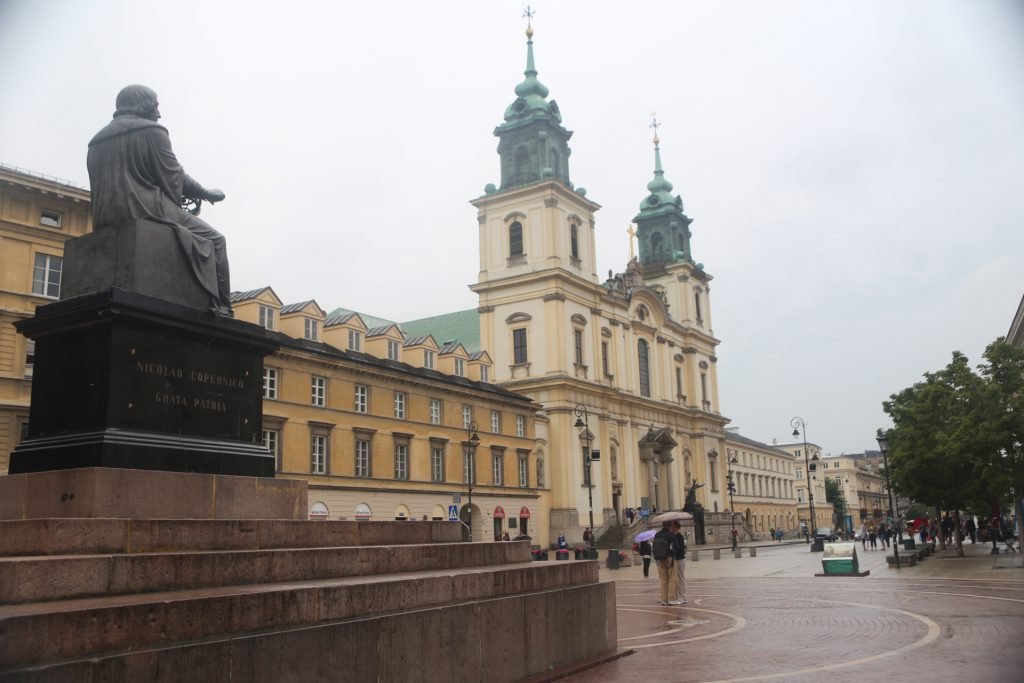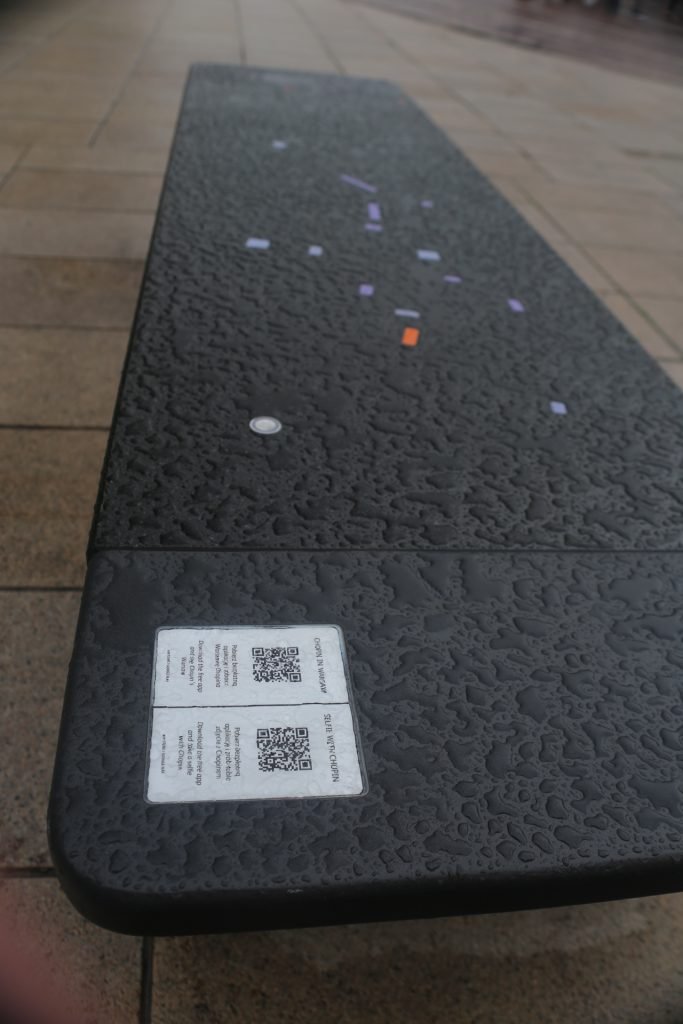 Despite the drizzling rain, I took a picture of the music while it played the Revolutionary Etude. There was a cool modern design etched into the black bench; small colored cubes in a seemingly random pattern. Remember that for later. The second bench is somewhere on the way north towards the palace, playing the Nocturne in Eb. The third is in Palace Square, and I couldn't place the piece it was playing.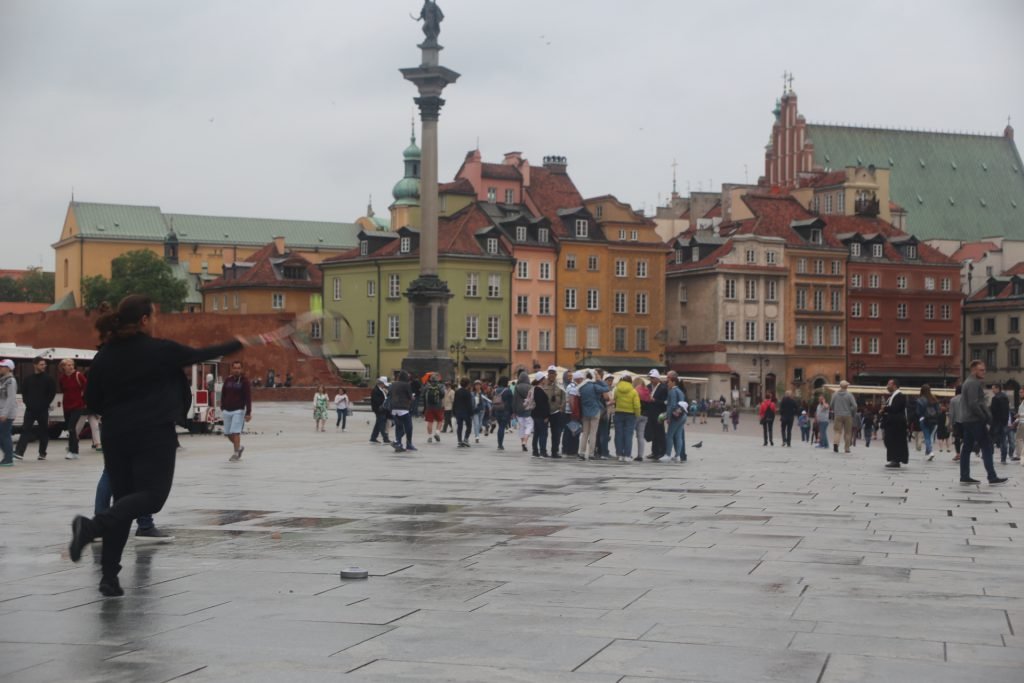 Also in the Copernicus square is the Holy Cross Church where Chopin's heart is interred.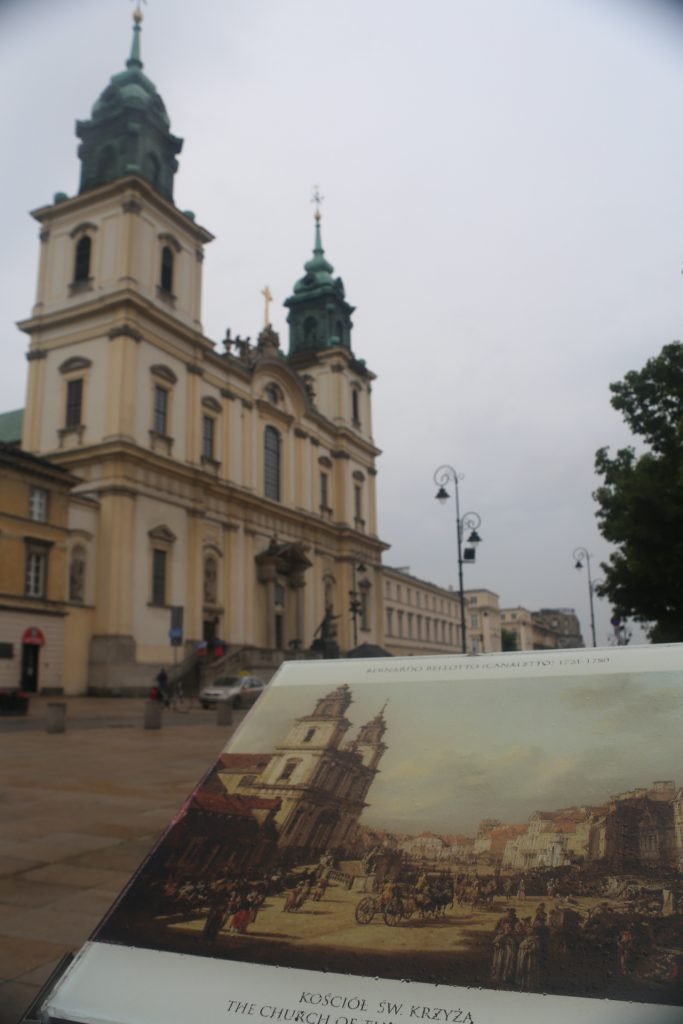 After touring the Palace and the rest of old town, the sun finally began to beat back the clouds and I began to retrace my route south to the Chopin Museum. On the way I stopped again at some of my photo spots to get better pictures now that the sun was shining. I had to walk right past the Chopin bench in Copernicus Square and I started laughing. Now that there was no water collected on the bench, I could see that the "modern art" was really a map to all the Chopin benches! The colored squares were the locations of the benches. So of course I snapped a few more pictures.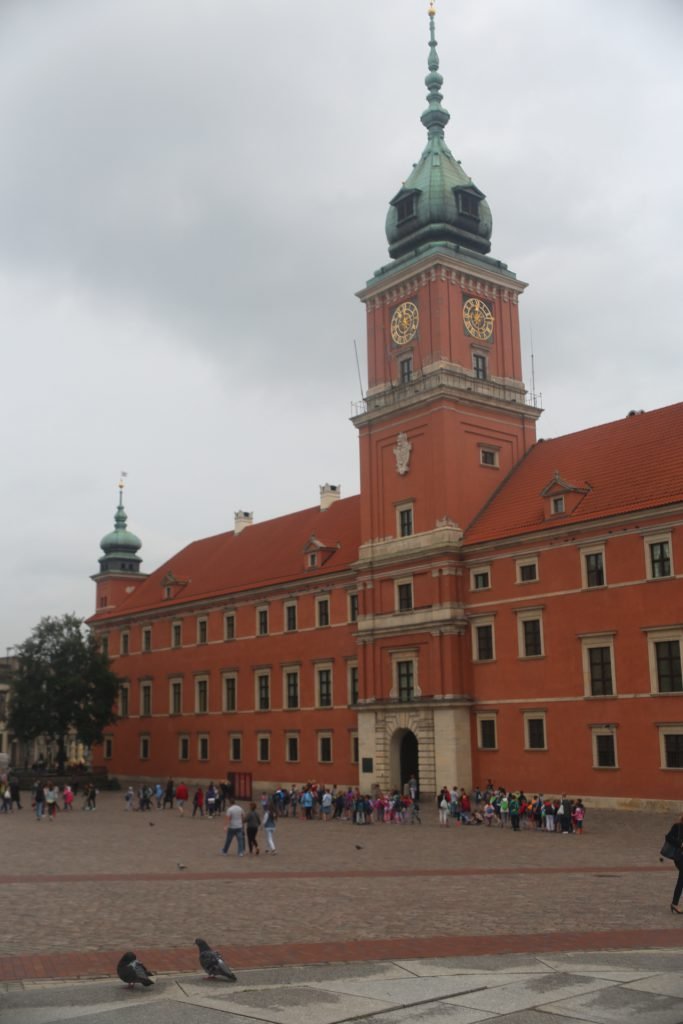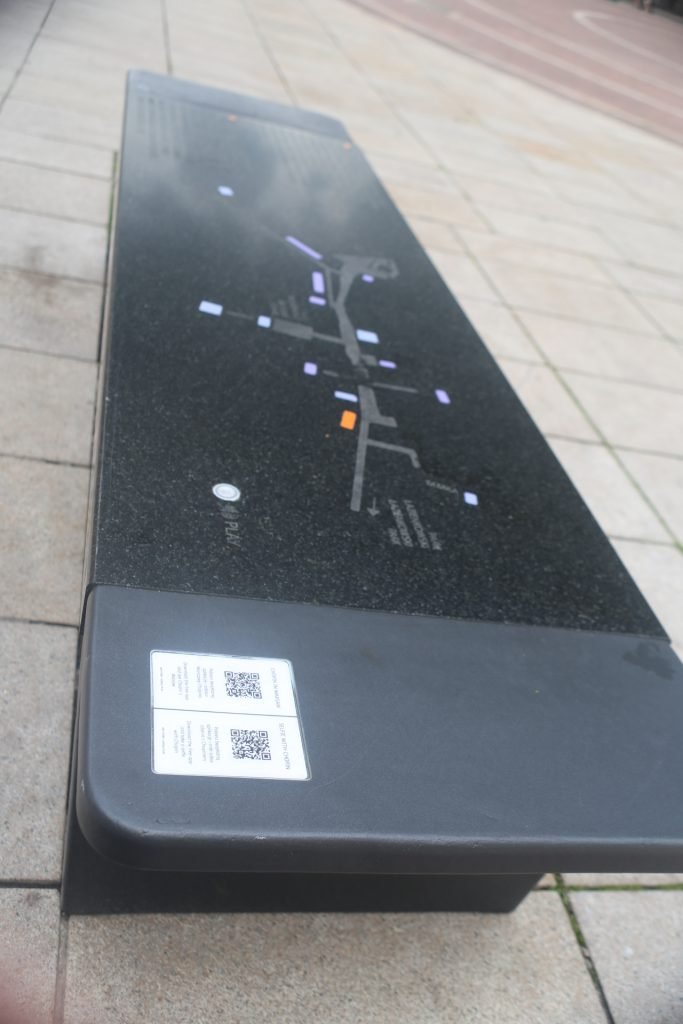 Finally I made it back to the Chopin Museum. One of the very interesting things about this site is that if you approached from the west (which is actually above the museum), there are piano practice rooms across the street. I have no clue what building this is, but it is fascinating to approach the museum and hear all sorts of piano music conflicting as it wafts through the air. There is also a Frydryck Chopin Institute that you will pass first if you come from this direction.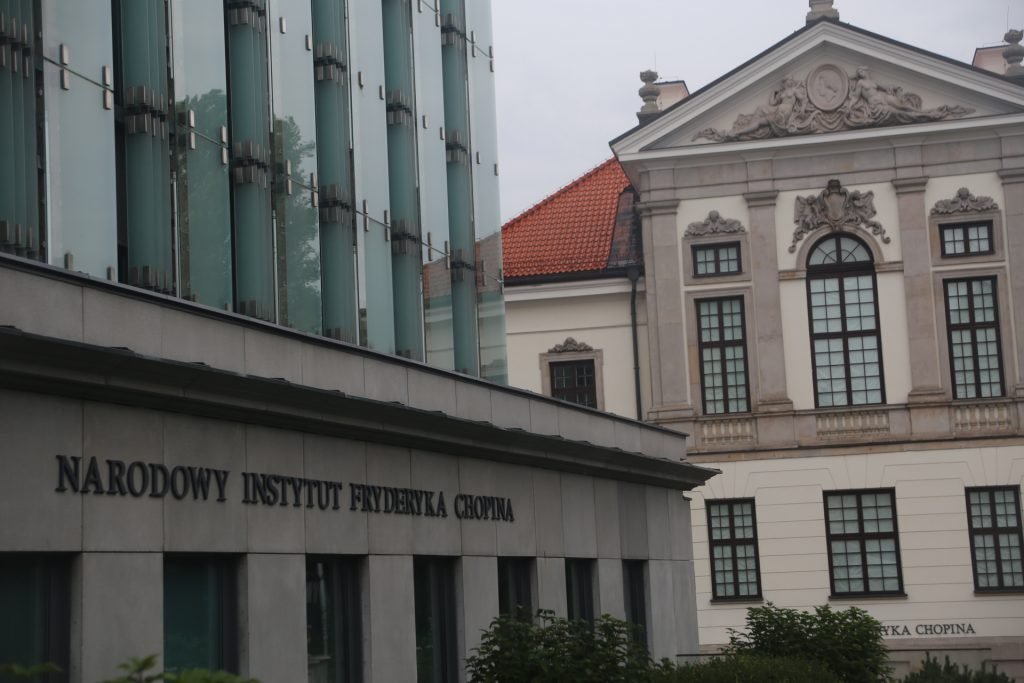 The museum is a 'palace', which is to say a large house that would have been occupied by a fairly well-to-do family. Like virtually everything in Warsaw, it is a reconstruction and beautifully done. You will have to walk down the marble stairs past the museum to the ticket office in the courtyard below, then come back and enter the museum through the large signless wooden doors. You will feel like you are entering a secret club.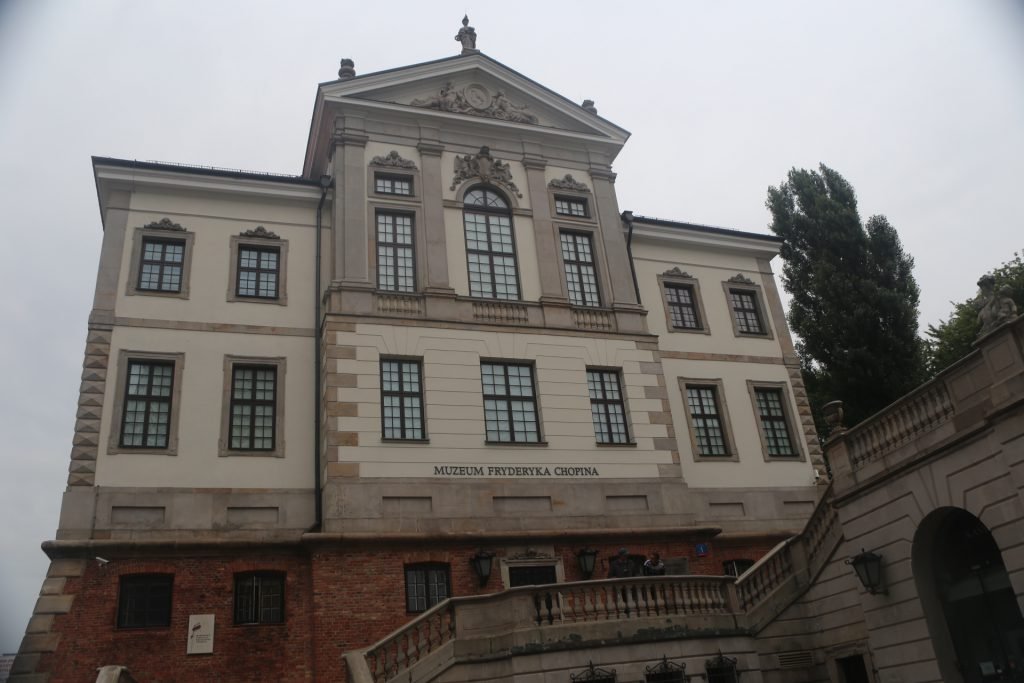 The Chopin Museum, like every music museum I have visited in Central and Eastern Europe, is more of a shrine than a museum, though much more modern and tech-savvy than any other I have seen. It it full of interactive screens, video, and audio technology and to reach the bulk of the museum on the lower two floors you will pass over clear and frosted glass catwalks and stairways as you enter an underground arched brick cellar. The space is a joy to walk through.
However, the technology is all glitz and not much content. If you know nothing about Chopin, you will not know much more after visiting the museum. If you are a fan of Chopin, you will enjoy looking through display after display of copies of manuscripts, letters, pictures, and printed books of his music. I was surprised how much of the displays were simply creating the setting for Chopin's time, and not specifically about him.
There were a lot of pictures of him (mostly copies), pictures of family, friends, and other musicians whom Chopin knew. Even the furniture was pieces from the time period, but not Chopin-related. The lack of Chopin artifacts is understandable considering the history of Warsaw, but I would rather have an educational museum following some sort of order and teaching me about the subject. I understand this is meant to be a little more whimsical, which I appreciate. But without content, it still ends up being somewhat boring. It's like solving a puzzle that has no solution.
The kids room was fun, with interactive games on touch screens. Upstairs is a "Musical Twister" with seven spots on the floor which play music when you step on them. Only two were working. There was an entire listening room with interactive stations that played Chopin's music, activated by touching a book which had a projection from an overhead screen. It was a great idea, but I could not get it to react to my touches. I could only access the help and playlist screens (and yes, I tried multiple stations). I also don't understand the cards. You are given a plastic card along with your ticket and to activate some displays, you hold your card up to the light. I thought perhaps this was to activate the appropriate language, but it seems to me it would be just as easy to push a button.
The coolest technology was the podium in front of the piano. There are three books of piano music on the side. When one of them is placed on the podium, that music plays along with a video of closeups of the hands playing. This seemed to fascinate a visitors, though it took me a minute to realize the video was part of the action because the screen was a floor higher, seen from the catwalk above.
So I did not stay long in the Chopin Museum. And I chose not to visit the Chopin statue in Park Lazienkowski, nor did I go to the Chopin Salon for a concert. Perhaps this was just because I was at the end of my European journey and was ready to go home, or because I realized that none of these places could give me a sense of familiarity with Chopin as strongly as just playing his music. Perhaps if these locations were to teach me more about his life I would have pushed myself to go, but as the locations stand, I could learn much more by googling him.
Don't get me wrong. I'm glad to have visited these locations. I was happy to get a feel for Chopin's time and life as opposed to some knowledge of it. I'm quite happy with my relaxed and understated Chopin tour in Warsaw.