Created an interactive, online listening competition designed to expose the students to different types of music and encourage active listening. By making this a competition against both each other and the faculty, there is motivation to succeed, which causes more active listening to each music clip.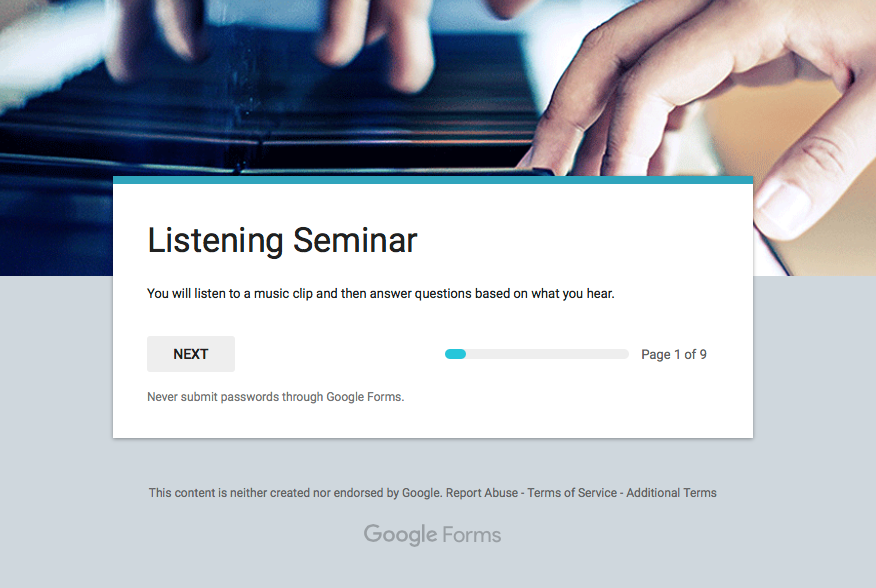 For this competition, students are divided into groups of 6 (randomly assigned by Canvas). One student must sign in to Google and Canvas, then open the game in their we browser on any device. A clip of music is played over the sound system, after which the group must answer a series of questions about what they heard.
Example questions are:
In which time period do you think this was composed?
What instruments do you hear?
What is the meter of this piece?
If you had to guess, what would you think the title of this piece might be?
The technology makes this a great little piece of educational material–it can be viewed on any device, and answers can be captured in real-time.
This is the first time creating one of these games and I learned that it is best to keep scores manually on the board instead of online. In the google quiz, there is no way to see the score until the very end, so if we run out of class time before the end of the quiz, we cannot see the scores.
Still, this was overall a great success.