Piano Grand IV is destined to be popular as a holiday concert! Again we had another sold-out performance at the Sarasota Opera House.
'Piano Grand IV: The Holiday Edition'
---
Your Observer
This concert boasts five Steinway concert grand pianos. The five grand pianists are Don Bryn, Joseph Holt, Andrew Lapp, Tom Purviance and Michael Stewart. The keyboard compositions are a mix of classics and popular standards. Selections include Tchaikovsky's "Nutcracker Suite," Leroy Anderson's "Sleigh Ride" and the "Hallelujah Chorus" from Handel's "Messiah."
When: 4 p.m. Sunday
Where: Sarasota Opera House, 61 N. Pineapple Ave.
Tickets: $20 – $55
Info: Call 306-1202.
---
The Herald Tribune
Piano Grand gets a holiday twist
By Decker Lavely
Staff Writer
Posted Dec 6, 2019 at 7:01 AM
Artist Series Concerts brings together five grand pianos and five pianists for a mix of classics, holiday favorites and an audience sing-along
"Piano Grand IV": 4 p.m. Sunday at the Sarasota Opera House, 61 N Pineapple Ave Sarasota, FL 34236. 941-306-1202; artistseriesconcerts.org
Five pianos, ten hands and a lot of holiday favorites, including a sing-along, will greet audiences for "Piano Grand IV," the latest version of Artist Series Concerts of Sarasota's popular series.
The first three concerts were presented in October, but "Enough people had said 'we are always missing that performance because it's in October' so that's why we moved it to December and I decided to do the holiday edition of it," said artistic director Dr. Joseph Holt.
For the past three years, Steinway & Sons grand pianos have been delivered straight from New York City for local pianists to play on the Sarasota Opera House stage.
"Piano Grand IV," at 4 p.m. Sunday, will feature five pianists, including Holt, performing seasonal classics like Tchaikovsky's "Nutcracker Suite" arranged by N. Jane Tan, Nicolas Economou, Edouard Hesselberg, Eduard Langer and Beatrice A. Miller. Other classical songs in the program include Bach and Gounod's "Ave Maria" and Vivaldi's "Sento in seno ch'in pioggia di lagrime."
"I could have chosen the winter version from the Four Seasons but I opted to choose a different piece because I thought it would actually show the effect of winter with rain falling," Holt said.
The concert will also include popular pieces like Leroy Anderson's "Sleigh Ride" preceded by a Russian version. It will feature a bells of Christmas medley, Christmas carols and an opportunity for the audience to participate in a sing-along version of the Hallelujah Chorus from Handel's "Messiah."
Holt, a conductor and arranger, said he became familiar with the specific arrangements written for multi-piano concerts through his years as a pianist for the United States Army Chorus in Washington D.C.
Since the series' start in 2015, educator, arranger and composer Don Bryn and Steinway Artist and composer Andrew Lapp have accompanied Holt for the sold-out performances. Thomas Purviance, a Lizst, Chopin and Rachmaninoff expert, joined the group in 2017.
"There is an incredible amount of extraordinary musicians that live in this area and it's a little bit of a challenge to find the right people to do this because there are so many that could," Holt said.
This year, the pianists have welcomed Michael Stewart, the group's newest and youngest member. Stewart is the pianist for the Choral Artists of Sarasota and a teacher at Manatee School for the Arts.
"Whenever an opportunity arises where multiple pianists can play together it's a true joy and pleasure," Stewart said. "It's going to be a fun way to usher in the holidays and get into the Christmas spirit."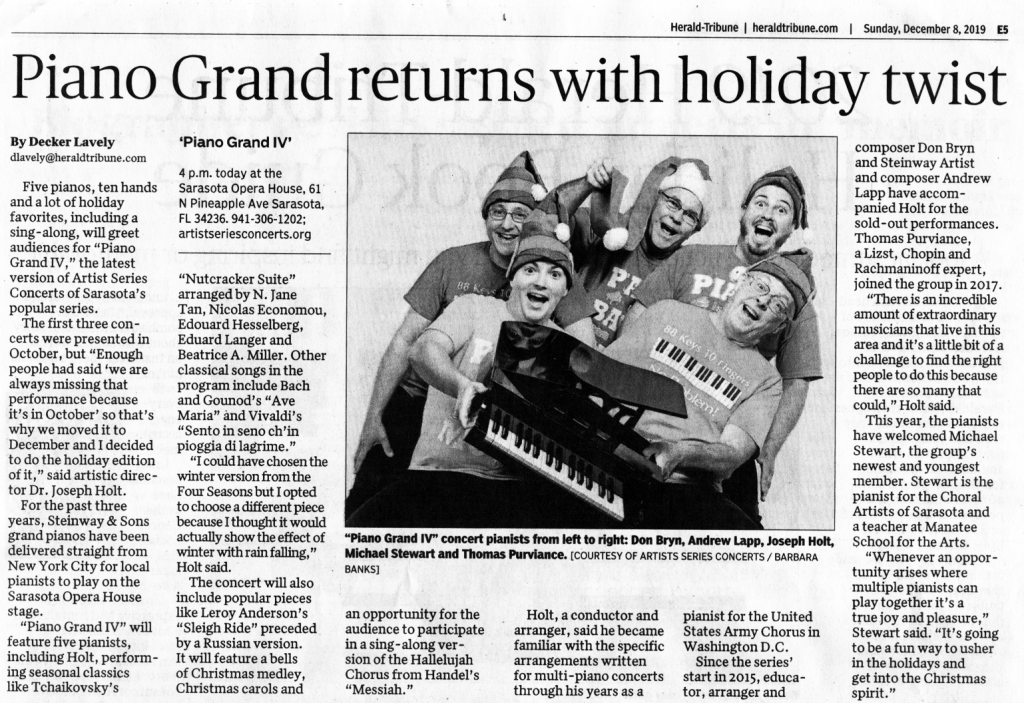 ---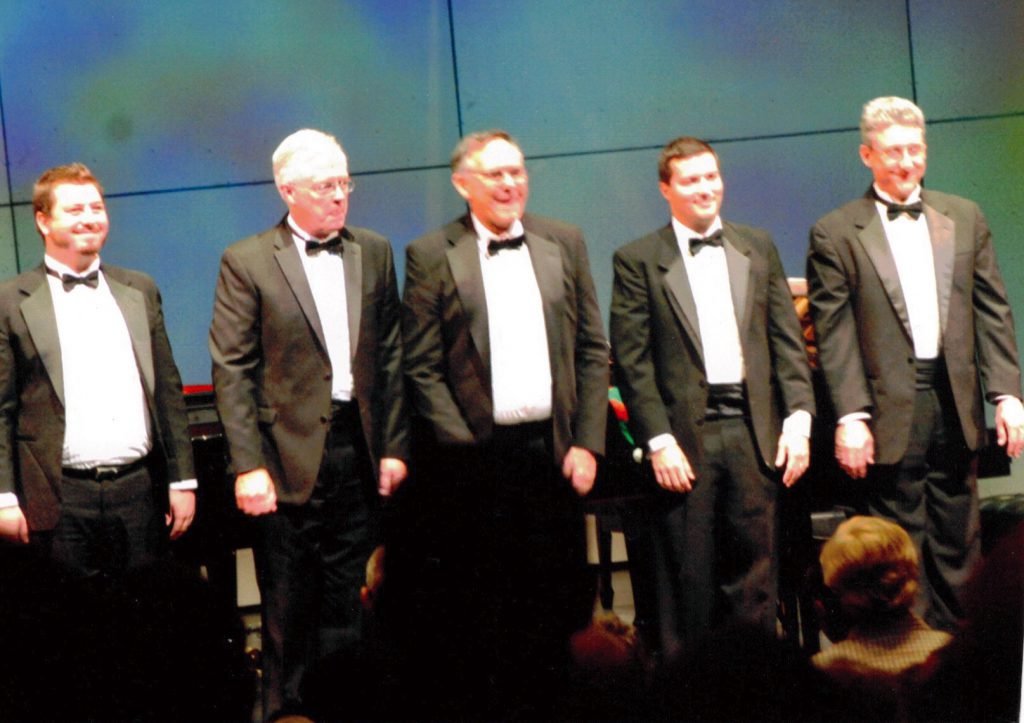 Program
Wir Danken Dir, Gott, Wir Danken Dir, Bach
Sento in seno ch'in pioggia di lagrime From Tieteberga and Giustino, Vivaldi
Ave Maria, Bach/Gounod
Nutcracker Suite, Tchaikovsky
Intermission
Troika from "The Seasons", Tchaikovsky
Sleigh Ride, Anderson
The Bells of Christmas, Arr. Raney
Oh Come, All Ye Faithful, Reading
Christmas Fantasy, Peskanov
Hallelujah Chorus, Handel
We Wish You A Merry Christmas, Traditional