Someone was unable to perform in a concert for the Artist Series of Sarasota so I filled in at (or near) the last minute.  It was wonderful fun playing the duet with Lee Dougherty Ross on the world premier of Fireworks by Roger Zare as well as a wonderful series of songs performed by David McFerrin.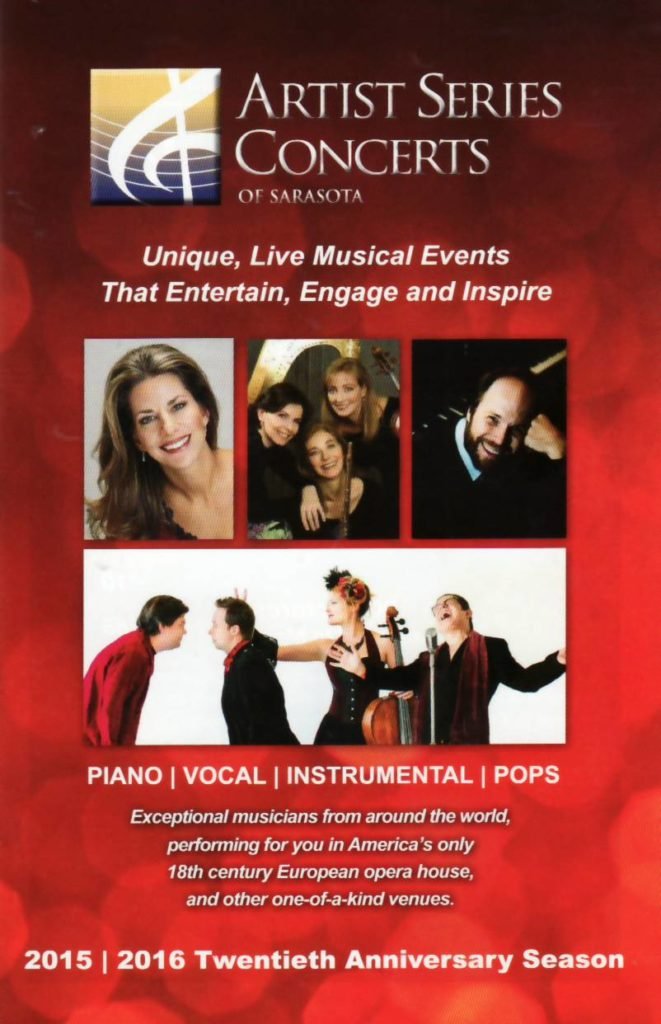 And the review:

The local series celebrated two decades with a fun, entertaining evening.
The Artist Series Concerts, a series that has graced Sarasota for two decades, set out to celebrate its 20th anniversary with an evening of varied entertainment this Memorial Day weekend at the Historic Asolo Theater.
It turned out to be more entertaining than accurate in its performances and, except for an encore that derailed the best of intentions, it was a fun, successful evening.
All the performers were making return appearances on the series, and the program got off to a good start with a fanfare-like piece called "Fireworks," by Roger Zare, who was the first recipient of the Artist Series' scholarships, which helped see him through his studies at USC and the Peabody Institute, culminating in a doctorate from the University of Michigan. The piece, commissioned by Olivia Swann for the Artist Series, was played by pianists Lee Dougherty Ross (who, with her husband Jerold Ross, co-founded the series 20 years ago), and Don Bryn. There were visuals of fireworks projected on the screen behind the piano, but they turned out to be unnecessary, because the music spoke well for itself. A knuckle-breaker, the pair did it justice at the one keyboard.
Soprano Monica Pasquini, long a favorite with Sarasota audiences, returned home from her work in New York City with a group of songs and arias that took her from a treacherously difficult cycle by Milhaud ("Chansons de Ronsard"), to songs and arias by Delibes ("Les filles de Cadix") and Donizetti (from "Linda di Chamounix") and the beloved "Love is Where You Find It." We've heard the charming soprano in the past, but this time, she seemed to be having vocal trouble, causing her pitch to sound inaccurate and the top of her voice to tend toward shrillness. Her sensitive pianist was Dougherty Ross.
She was followed by violinist Alexander Markov and pianist Keike Doerr, who began with a tranquil reading of Schubert's "Ave Maria," in an interesting arrangement by Wilhelm. Markov, himself, tackled the well-known 24th Caprice of Paganini with pizzaz and, in some places — like the pizzicato variation and the following pianissimo section — a beautiful tone, but other moments were marred by some strange tempo changes. The pair concluded with Sarasate's "Zigeunerweisen," with a nice sense of the gypsy from both of them.
Perhaps the best performances of the evening came from baritone David McFerrin and pianist Don Bryn in some absolutely charming renditions of songs by Broadway favorites. McFerrin, who has impeccable diction and enunciation, gave a soulful performance of "Lonely Town," from Bernstein's "On the Town," followed by a hilarious reading of Cole Porter's equally hilarious "Tale of the Oyster." "With a Song in My Heart" and "The Impossible Dream" were very much audience favorites.
Finally, duo pianists Greg Anderson and Elizabeth Joy Roe offered a group of pieces that included more crowd pleasers by Bernstein, Piazzolla and Katchaturian, not only with their four hands at the piano but also with occasional and interesting body-swoops inside the piano, plucking and muting strings for a variety of effects.
But that wasn't the end of the program. There was an encore by Markov on a gold electric violin. He began with his own composition, which sounded like Vivaldi on acid, and concluded with an absolute travesty of our National Anthem that was worse than anything you've heard on YouTube or Facebook. His work on that electric violin short circuited an otherwise entertaining and joyous evening.