As a community outreach and recruiting effort, I hosted the local MTA (Music Teachers Association) for a light lunch and studio class.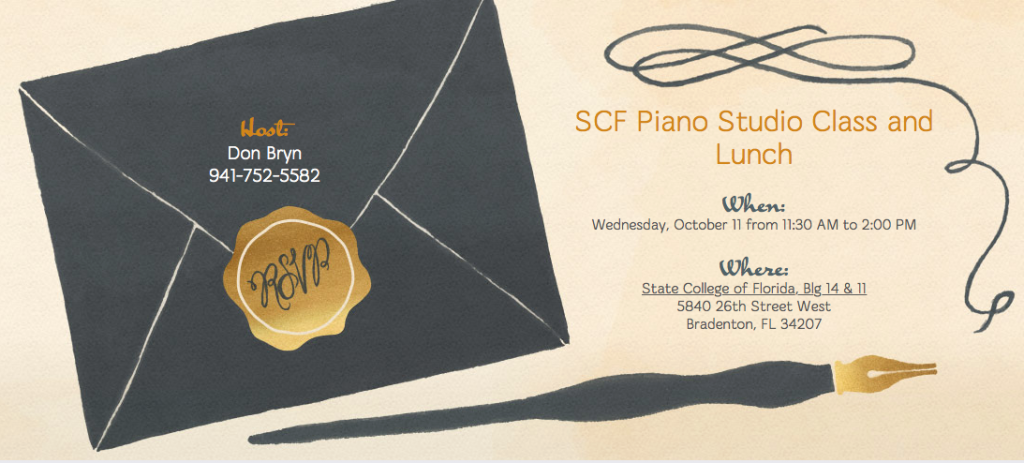 At 11:30, the local teachers began to arrive and were guided by students to the union for lunch. A light buffet lunch was served while socializing and discussing education and music in the area as well as national and state conferences.
After lunch, the MTA had their monthly meeting at the lunch table while students and myself went to prepare the room for the studio class.
Piano Studio class is a bi-weekly session that involves all piano majors and is an informal group lesson situation. Students play pieces or even just sections of pieces they are learning, and then discussion is opened to all students and faculty. This results in
Students gaining experience performing in front of others.
Opportunities to learn about repertoire that they might not know.
Encourage active listening.
Have teachers other than the primary teacher explain technique in a new way.
Learn about stylistic concerns in the context of real music.
This particular studio class was held during Recital Hour so that all music students would have the opportunity to observe a studio class. Since the piano department is the only department to have this class at SCF, it is an excellent opportunity for other students to see what it is, how it works, as well as to learn about the students within the keyboard department.
This class was also open to the local MTA teachers who really enjoyed the opportunity to hear our students perform pieces on which they are working.  Overall, a great success and I am glad I kept it rather small this first time I did this.  In the future I hope to invite more community teachers and therefore raise awareness even higher of the work we are doing here at SCF.